Classic prints and patterns from the past are slowly finding a place in our hearts and homes once again. Quintessentially traditional prints have returned and are making a bold statement in our modern interiors. Read on to hear some of designer Lauren Clement's favorite tips for designing with traditional prints with a modern twist.
It's all about balance
The key to making traditional fabrics feel fresh and new is through creating a visual balance in the space. This can be achieved by playing with light and dark tones or by mixing elegant prints with sleek, simple pieces.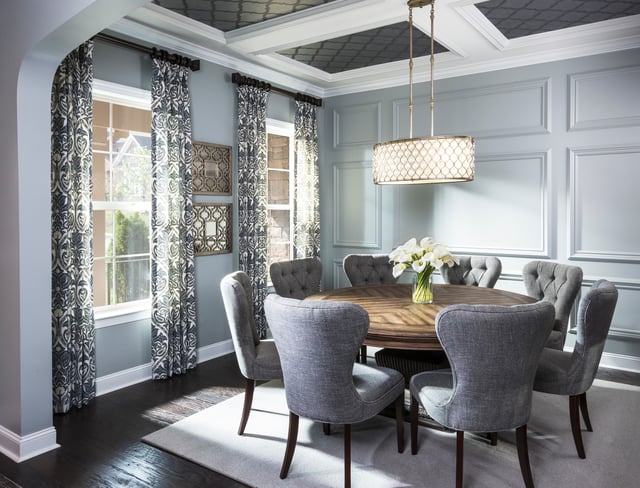 Draperies in Fabricut's Moving On in Slate

In this dining room, the dark ceiling and draperies contrast with the abundance of natural light and the soft gray elements from the wall color and the dining room chairs. As long as there is balance between styles and scale of prints, feel free to play with different combinations until it feels perfect.
All good things are best in moderation
Modern design lives and breathes by the rule of restraint. The same rule applies when incorporating traditional fabrics.
Use one or two prints to make your space look effortless but intentional. If you keep the palette neutral, consider adding a pop of color with printed draperies or pillows.
Mixing Media
Incorporating multiple textures and prints into a space is a great way to establish focal points and guide your eyes around the room.
Take the one or two traditional prints mentioned earlier and incorporate them into a neutrally designed room. Adding eye-popping prints against neutral colors will provide that WOW factor you've been searching for.
Sticking to your color palette
The easiest way to blend patterns into a space is by creating a contrast through a single color.
In this dining room, the navy and royal blue tones from the dramatic draperies and the plush velvet chairs pop against the warm wood incorporated throughout the entire room.
What I love most about incorporating traditional prints is that they are always changing! Even though they are considered "traditional" in style, these prints and patterns are classic by nature.
Trends are forever changing but this twist on modern interior design is definitely here to stay!
Do you love these spaces?
See more from Lauren Nicole Designs.
Lauren Nicole Designs is a guest blogger for Fabricut.
If you'd like to become a guest blogger, please click here to complete our application.