Stroheim and Traditional Home developed a Design Incubation course with students from the Savannah College of Art and Design. To commemorate Stroheim's 150th Anniversary, the student designers were challenged to interpret traditional style with a new vision in textiles and wallcoverings for residential living spaces.
With consistent check-in moments throughout the 10-week course, Stroheim's Nina Butkin, designer Patrick J. Hamilton, and Traditional Home editors provided constructive feedback and recommendations to help guide the students through the product development process. Four incredible collections were presented at the end of the course and were a true testament to the future talent of our industry.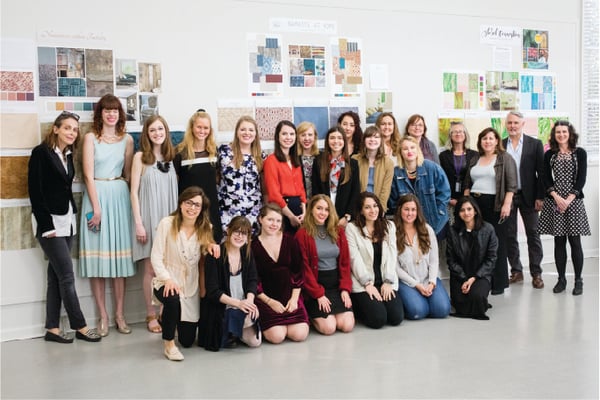 The whole gang at the Final Presentations.
In the end, patterns from Team Darlene's collection were selected, developed further, manufactured and introduced into the marketplace.
Team Darlene
Developed by SCAD Fibers students Morgan De Paoli, Brittany Reidy, Jessica Amsberry, Hannah Golden and Celeste Buck, The Darlene Collection views nature through a modern lens with a focus on moody color and texture.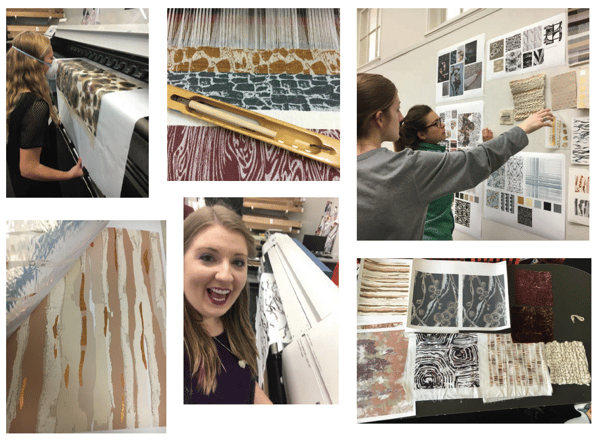 Team Darlene with stages of the collection development
For a 10-week Studio Course, these talented and budding industry trendsetters researched, developed and merchandised a cohesive collection featuring printed patterns, woven neutrals, metallic accents and wallcoverings interpreting traditional style with a new vision.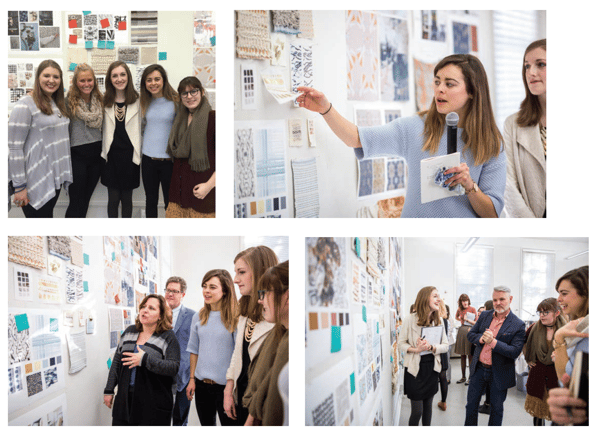 Team Darlene presenting their designs at the Midpoint Critique.
Their collection incorporated textures inspired by nature into the home in new and unexpected ways, and created a living environment that celebrates materiality and the artist's hand.
"Each pattern stands independently and works well together; the patterns collectively have a perfect balance of texture, color and pattern," said Nina Butkin, vice president of product design for Fabricut Inc. and Stroheim.
The Muse Behind the Collection
As an editor from Charleston, South Carolina, Darlene's occupation requires that she spend ample amounts of time at a computer. She is a dedicated curator of her home as well as her life and tends to keep up with trends through magazines. She enjoys supporting local artists, and being outdoors which explains her passion for incorporating natural elements into her home.
Bringing the Collection to Life
Designer Patrick J. Hamilton brought The Darlene Collection to life as part of the Southern Style Now festival's Showhouse hosted in Savannah, Georgia this past November.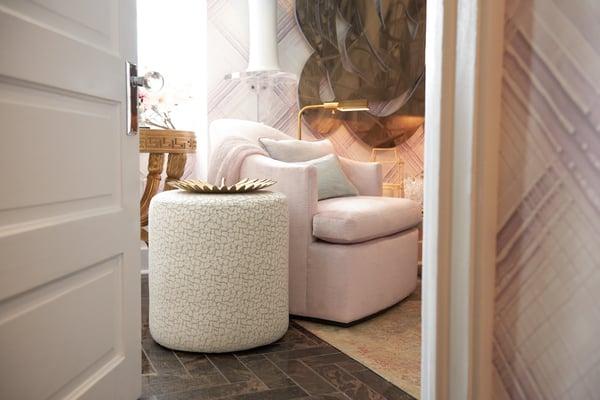 He transformed his small, layered space into Darlene's Southern Study for writing, conversation, and gin and tonics.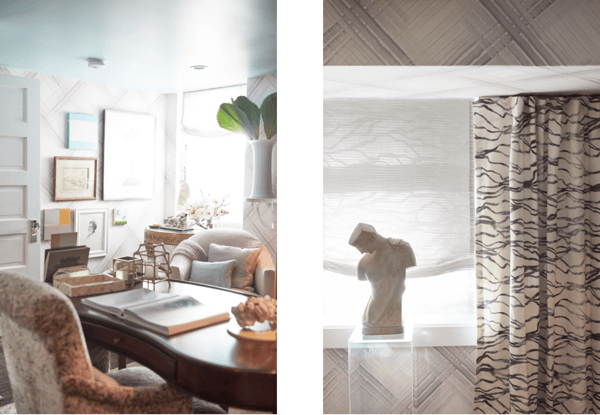 See more patterns and colorways from The Darlene Collection online at stroheim.com and in Fabricut Showrooms worldwide.
Check out more in Stroheim's Media Kit and Traditional Home's editorial coverage from this Design Incubation project.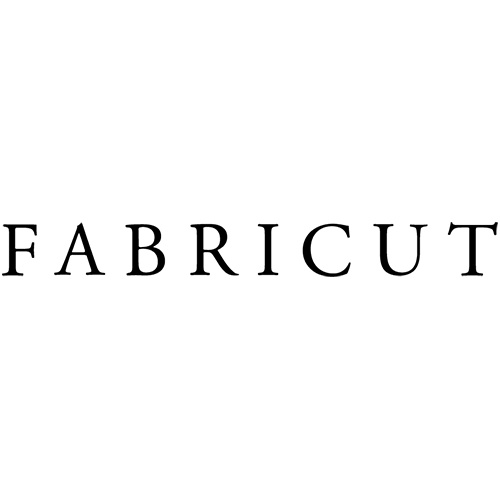 Our Fabricut marketing team loves sharing design inspiration with our readers, and we've put this blog post together with you in mind!