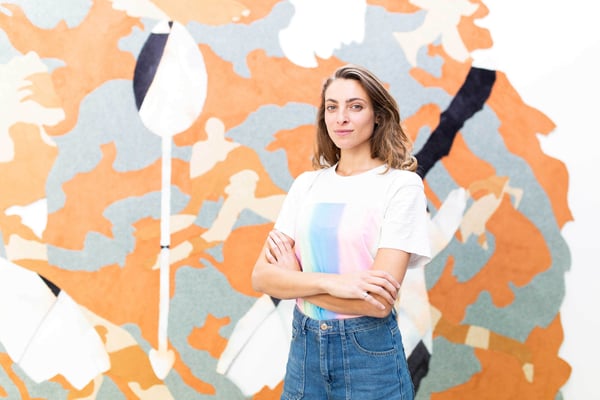 Art and interiors have a past that is well intertwined and share a future full of potential. With interiors typically housing art, while also being works of art themselves in some cases, the relationship is easy to understand. Integrating art into interiors distinguishes a home and transforms it.
In the spirit of incorporating art and interior design, we reached out to artist Bea Bonafini – who specializes in textiles – to bring artwork to life from some of our interior fabrics. We then asked her for her thoughts on how art and interiors intersect from her point of view as well as some other tidbits to get a glimpse into her creative process.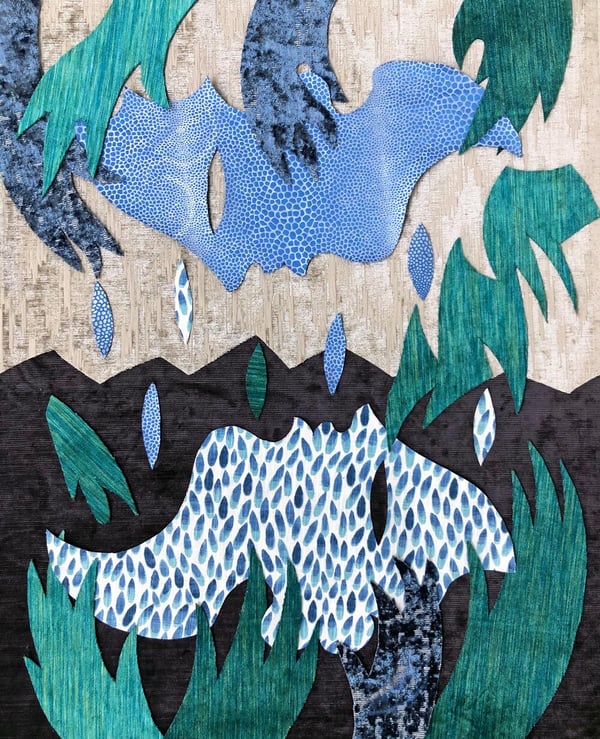 Created by Bea Bonafini using Orvieto - Azure, Wayfarer - Linen, Linseed - Ocean, Tegmine - Lagoon and Ease Velvet - Aquamarine.
Tell us a little bit about your reasoning for selecting the fabrics you used in your piece.
"I chose fabrics that had patterns or textures closest to the fibres I normally work with, which are usually domestic, industrial carpets or woven fabrics. I picked a range of velvet textures, as well as patterns of rain or tear drops."
What inspired you when creating this piece?
"Before I began making inlaid carpet tapestries, I created hand-stitched fabric paintings. Working with Fabricut fabrics brought me back to those earlier years where I would cut sections of fabrics and piece them together like a collage."
How do you envision your artwork integrating into the home?
"The fact that I use domestic materials already brings an element of familiarity, intimacy and comfort to the work I make, which is then distorted and lifted out of the domestic reference through the composition, subject matter and the way the materials are processed."
In your opinion, what does art add to the home?
"Soul."
What is important to you when creating your artwork?
"I work very instinctively, the important thing is to absorb what I'm researching but not overthink while I'm making."
What do you hope people are left with after seeing your art?
"I hope they're left with the sense that they've glimpsed through an opening they didn't know existed, onto a different perception of feeling."
What is your creative process like?
"It's playful, I let myself make bad work which I push to the limit until it becomes what I can consider to be good work."
What is your favorite piece that you've created? Why is it your favorite?
"'Rippling' is a gigantic tapestry I made in the South of France. It is 12 meters long and hangs vertically in a large building. It was a challenge and the satisfaction of seeing a permanent site-specific installation of that kind is hugely rewarding."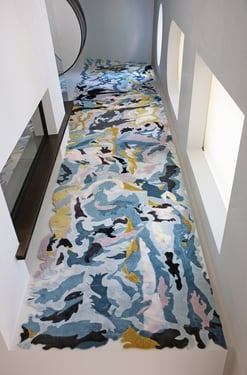 'Rippling' by Bea Bonafini
Why did you become an artist?
"I followed an urge I had to process the world through images and materials, and create new worlds in response to my way of feeling alive."
Where can interior designers and others find you and your pieces?
"I currently have a solo show in Milan at Renata Fabbri gallery and another in Florence at Eduardo Secci gallery. Otherwise, my studio is in London and you can stay updated with my work and shows on my Instagram page at @beabonafini."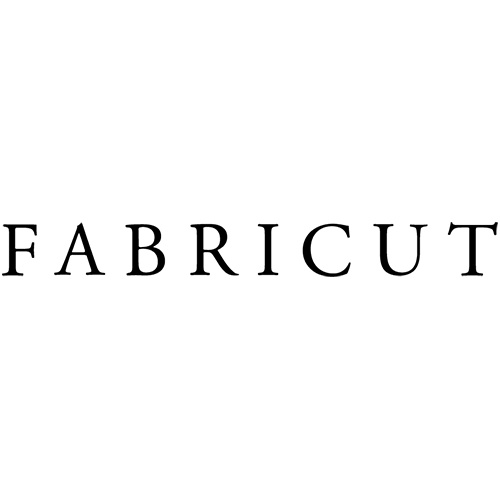 Our Fabricut marketing team loves sharing design inspiration with our readers, and we've put this blog post together with you in mind!