Homes are constantly evolving and as we begin 2018, you might be eager to tackle design resolutions in the new year. We asked Jennifer Flores of Rambling Renovators what she forecasts as the hottest design trends for 2018.
Our homes have become our sanctuaries and design in the coming months will reflect the need for both calming environments and personalized, luxurious escapes. Here are some current style ideas and continuing trends that I see will liven up living spaces: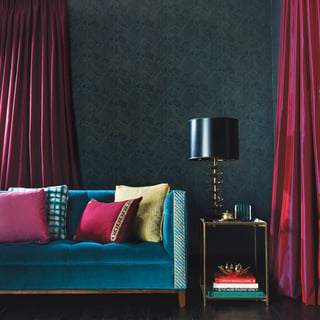 VIBRANT JEWEL TONES
The prevalence of bold and vibrant jewel tones that emerged in 2017 continues. While black and white interiors will always remain a classic, furnishings and accessories in hues of emerald green, ruby red and sapphire blue are making their way into many homes.
Rendered in plush velvets or textured silk, these colors beg to be touched and can add instant sophistication to any room.
Jewel tones are confident and impactful so be judicious about their use. A statement-making tufted aubergine velvet sofa might be just right for a daring interior while a single peacock blue chenille pillow can be the perfect accent in a more serene space. These saturated colors can shine on their own or blend well with others for a refined and glamorous look.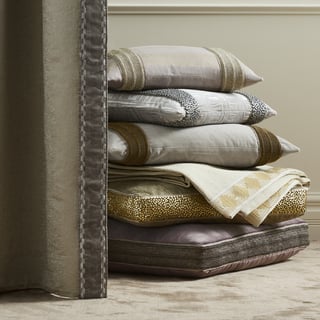 TRIMMINGS AND EMBELLISHMENTS
Today's homeowners are blessed with endless choices for custom furnishings. From bespoke furniture sized to fit a small space, to custom window coverings, home décor has become increasingly personalized. Often it is the exquisite and unique details that take a room from ordinary to truly suited to one's own taste.
Designers have long known the power of small but special touches. Embellishments such as trimming tapes, tassels, fringe, and cording can elevate a design. Decorative cording on a pillow or bullion fringe on a skirted sofa can add another layer of texture or color and bring a beautiful finish to a well-designed room.
NEW NEUTRALS
As life gets busier and more connected, there is a growing desire to find spaces for serenity amongst the noise. Calm colors and quiet textures are the perfect recipe for tech-free zones and relaxing environments.
But that doesn't mean you need to swath everything in beige; neutrals have expanded beyond classic white and cream to include subtle shades of pink, stone grey, mint green, and soft watery blues.
Stick to solid fabrics or small scale patterns and opt for natural textures like linen to minimize the visual noise and distraction. Warm and inviting, the new neutrals provide opportunity to explore a minimalist yet interesting palette.
Are you excited by these trends?
Jennifer Flores is a guest blogger for Fabricut.