As a leader in the fashion world for almost 30 years, Isaac Mizrahi has always approached his designs with an irreverent sense of color, pattern and texture. It is this same bold perspective that is the essence behind his second fabric collection with S. Harris.
"It has always been a personal dream of mine to design fabrics for the home," says Isaac Mizrahi. "And now, I have two premium designer fabric collections with S. Harris that are fabulously executed and work so well together that interior designers can create a full room with nothing but Isaac Mizrahi for S. Harris fabrics or use one pattern at a time."
Six years after the launch of his first collection, Isaac's philosophy remains the same: create a new expression of classic design. This time he turned to his own home for inspiration and the desire to surround himself with fabrics that he would love to live with every day. Isaac focused on new ideas like textured animal patterns with a mix of matte and shimmer (Safari Shadow and Safari Shimmer); over-scaled damasks (Big Damask); heathery menswear looks (Cyberbone); luscious velvet stripes (Delicious Stripe); and subtle, shimmering drapery (Burlap Cellophane and Moonlit Glamor).
His favorites include patterns like Gatopardo, what Isaac describes as a modern take on a leopard pattern in a heavy tapestry quality that appears almost distressed; Candy Box Plaid, a colorful 100% silk taffeta plaid; a double-faced fabric, Gemini Satin, that features satin – the shimmer – one side and linen – the matte – on the other; and of course the focal point of his collection, Mega Chintz. This glorious celebration of pattern and color is a perfect example of Isaac's 'classic with a twist' philosophy: grand-scale, vibrant and bursting with vitality.
"Isaac's first collection was so cutting-edge and ahead of its time that those patterns continue to sell every day – six years later," says David Klaristenfeld, vice president of S. Harris. "He continues to re-energize S. Harris with his joyous sense of color, pattern and texture, and gives interior designers a reason to experiment with his refreshingly bold ideas."
Fabrics are still in classic "Isaac colors" but this time his colors are moodier – deep, rich and jewel-like with metallic accents. Only Isaac Mizrahi could make this eclectic meets classic vision blend harmoniously.
See Isaac's new collection and his original collection online at www.sharris.com.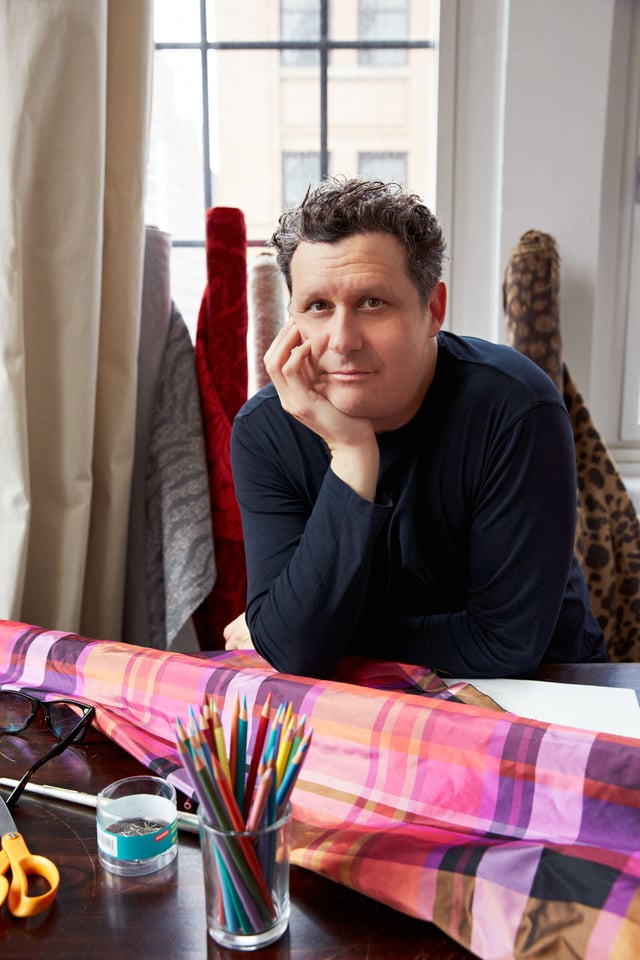 Congratulations Randy Davidson, Celia Barrett, Kent Oellien, Teresa D'Orazio and Amanda; each of you will receive a special gift courtesy of S. Harris and Isaac Mizrahi. Isaac answers your questions starting Oct. 24th!