Your "Tool Tips" Key for our Websites
As you are navigating through our new websites, you may have noticed our new "tool" icons. We created these to help you quickly perform functions without leaving the page.
Let's take a look:
Universal Log-In Bar: After you log in, the first "tools" you'll see include the "My Cart" cart icon and "Favorites" icon. If something is in these from the last time you logged in, the cart will blue and the heart red.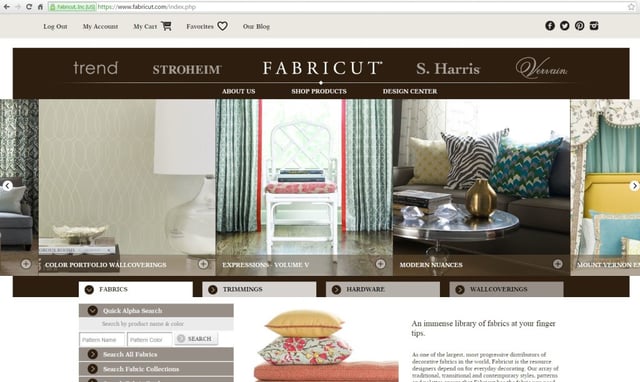 Search Results Page: On each thumbnail in your search results set, you'll see a set of tools that allow you to easily order a memo, add to your Favorites, pin to a Design Board or Zoom to see the pattern at a larger scale. Just roll over the swatches with your mouse to view the tools. What's great about this is that you can quickly order memos for a project from the search results page rather than going into each individual pattern.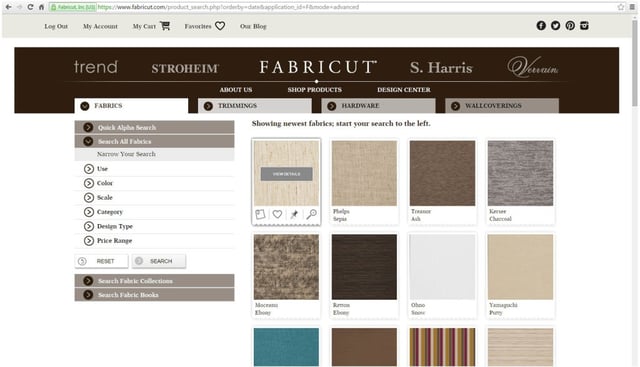 Product Details Page: You'll find similar tool sets on the individual pattern Product Detail pages. On each swatch you can order a memo, download the image, check stock and order yardage/add to cart.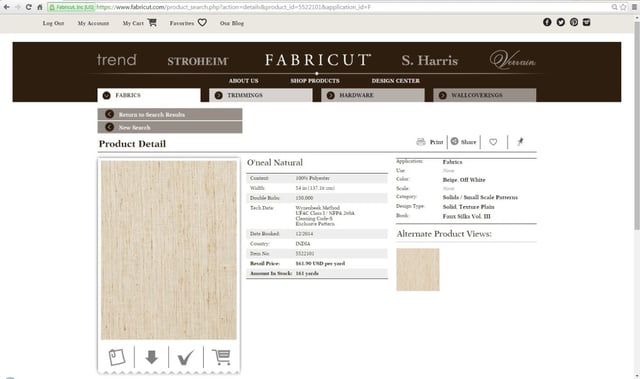 Watch the tool icons change color when you've performed a function; below shows that we've ordered a memo and also have yardage in our cart.

From the Product Details Page you can also print the information, share the pattern on your Social Media channels, add to your Favorites or Design Board.

Again, see how the "Favorites" heart and "Design Board" pin have changed color to show that you've added them? Hover over the "Share" icon to see your Social Media channels and email options.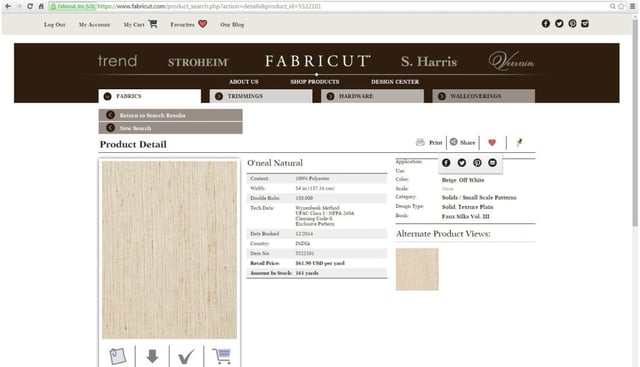 My Account: In the "My Account" section you'll see more tool icons to help you navigate these functions. See everything in your cart(s), Favorites lists, Design Boards, Holds/CFAs and access the Download Center for Price Lists and marketing images.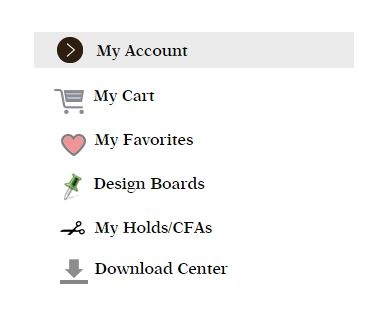 My Cart: Edit orders in your cart with these tools:

The pencil icon allow you to edit your order: change the quantity on order, specify your cuts and add a Sidemark.

The pin icon saves this line item for later; move it to another cart and process this order at a later time.

In "My Cart", the paper clip and note icon shows your Sidemark information.
This icon deletes/removes the item from your cart/order.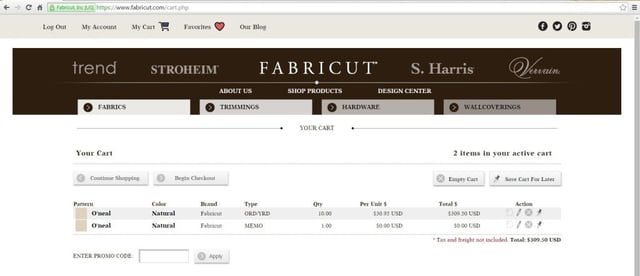 Use these quick and easy tools to better your website experience.
Next Highlight: Convert a CFA to an Order ONLINE!
Tags Fabrics